Capital Breast Care Center

At Capital Breast Care Center, our mission is to provide navigation and access to culturally sensitive breast cancer screening services, and health and wellness education guided by evidence-based practices to underserved women in the Washington, DC Metropolitan area.
The patient navigators' individualized educational approach of informing women makes the mammography process less scary. This outreach also enables women to be informed, participate in their care, and encourages them to use CBCC. The navigators are continuously building relationships with clinics and community partners in the DC metropolitan area to reach the women who may benefit the most from their seminars.
CBCC achieves Georgetown University's mission of cura personalis (addressing the whole person) by taking into account patients' individual life circumstances when connecting them with resources and assisting patients with insurance applications. Increasingly, we connect patients with primary care doctors to ensure that patients receive appropriate care.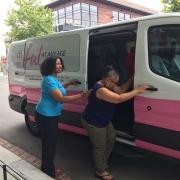 For many women, getting a mammogram can be intimidating experience, one that could come with various stages of anxiety and acceptance. Our patient navigators work hard to educate women across the DC metro area and encourage them to obtain mammography screening.
The next challenge is getting women with abnormal findings to return for follow-up diagnostic imaging. Navigators are essential to CBCC in improving poor follow-up rates.
We hold great ambitions regarding our mission
Our Associate Director of Minority Health and Disparities Research, Dr. Lucile Adams-Campbell, spoke at the CBCC Gift of Life Breakfast.
"My goal is also to foster research that is derived from the CBCC patient population to help contribute to the evidence-based research literature, with emphasis on Black and Hispanic women. It is nice to say how great a job we are doing at CBCC. Our data have been presented at meetings of the largest cancer organization in the world – the American Association for Cancer Research – at national and international meetings including Durban and Capetown South Africa and next month in Rawanda at the African Organization for Research and Training in Cancer (AORTIC). CBCC has always been on the map in our minds and region but now CBCC is in scientific journals, and present on the world stage and is becoming increasingly recognized for all the good and hard work that has been done."